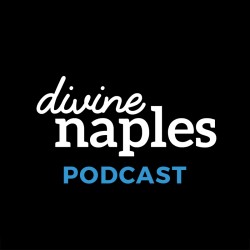 About the Divine Naples Saturday Show
Welcome to our Saturday Show by invitation only. Everybody is writing their own book of life and each book is full of stories so let us bring your story to light. Here is some basic information and helpful tools. There is no reason to be nervous – let's make it a relaxed and fun conversation between two people because no-one else is listening 😊
There are plenty of podcasters who happily hand over the questions to their guests in advance. They do it because they want to appear like they are prepared. Or, they want their guest to feel prepared and comfortable. What they get is a mediocre and rehearsed sounding podcast with zero spontaneity. At Divine Naples we are all people and we love to do things RAW because we want to be as authentic as possible, so we are sorry but no list of questions exists. Instead let's have a coffee or drink and talk!
Show Format
---
Pre-Interview Chat

We will talk off the record for a few minutes while I check sound levels and go over any of your questions or concerns.
When you're ready, I will hit the record button.
Please note that my name is Rich and we are not doing a podcast about me, so please no need to share any other info than my name.
Introduction

I will introduce you to the show and ask you about how you got started with your product or service.
General questions that may come up during the interview

First 5 minutes are the ice breaker, once we get you to relax and smile we will move on.
First half of the podcast – Lets talk about life and your connection to Naples, Florida.
Why Naples? (Let's discuss)
Second half of podcast  – Your hobbies, business, product, passion and plans.
Your best suggestion for a newcomer to SWFL.
Conclusion

What is your best tip for someone struggling to take their idea forward?
Please let the audience know how they can find you.
Podcast closure and nomination.
Post-Interview Chat

We will wrap-up off the air and cover any other questions you might have.
We will record few individual takes after the podcast for promo purposes – Example…. (my name is) and you are listening to the Divine Naples Podcast!
---
After you fill out this form you will receive follow up email with a release form. After we receive all the documents we will give you options for scheduling, but we do long interviews early in the morning or late at night to avoid noise and disturbance.
Thank you, we are looking forward to meet you at our studio in Downtown Naples.
We want to showcase our local businesses
and their quality, passion, and stories like no one else!